When Meg and Macy announced that they were going to do a swap for the summer and that it involved a pair of sandals and some nail polish I knew that I wanted to join! I've done some swaps in the past with Olya and Mattie and I've loved getting to know other bloggers through the process!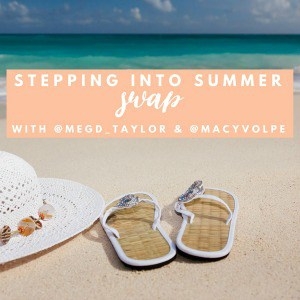 The premise of this swap was to step into summer with a new pair of sandals and a new nail polish and a new friend, so I was very excited to find out who I was paired with for this swap! When Meg sent out the email, I was so excited to find out that Kaitlyn from Oh! The Places We'll Go! was my swap partner! I've been reading her blog for a while now, and I was so excited to get to know her better!
After Meg sent us the invites, Kaitlyn thought of some awesome questions that helped us to get to know each other better, like what our favorite color was, what our favorite season was, and what our favorite kind of shoe was. All of the questions really helped me to get to know her better and pick out the items for her swap, although I have to admit that I did a little blog stalking too!
We got back from San Diego late Sunday night, and I was so excited to see my package on my doorstep, but I was even more excited when I opened up the package! Kaitlyn totally nailed my style with these adorable Michael Kors flip flops and this bright pink nail polish!
We're headed to the country this weekend, and I'm thinking that this nail polish will be perfect for the weekend! Thank you so much Kaitlyn for the great gift, and I know that I'll be wearing both of these all summer!